Find The Flow To Your Glow
As we welcome 2020, we celebrate youthfulness and being young at heart. Marie-Reine Kabis shares the ultimate anti-ageing solution to a more youthful you.  Discover her unique and innovative approach to controlling the natural ageing process, without the use of Botox, injections and (or) more invasive skin care procedures.  Ladies and gents, you can diminish the appearance of fine lines, wrinkles and sagging skin with Facial Yoga!  Wow you say? Well, it's not super surprising in the modern era of yoga, self-awareness, meditation and mindfulness to find alternatives and natural therapies encouraging a personal journey towards youthfulness.
True or false?  We spend time, energy and money caring for our bodies by doing things such as:  training at the gym, playing sports, practicing yoga, drinking the recommended dose of water daily, trying to sleep at least 7+ hours, attempting to eat a healthy diet, drinking in moderation and (or) reducing stress-levels. Today, it's literally driven into our heads to pay attention and dedicate time towards personal self-care and self-love.  
What about your face?  Have you ever thought about how much these muscles are used, but are completely neglected in this self-care & self-love process?  They need as much targeted attention as the rest of your body – and in fact much more.  Your face is the most abused and exposed area of your body and ultimately the mirror to your health, lifestyle and habits.  That's why it's so important to maximize good life habits, leaving the bad ones behind (knock knock … they'll show up one day without any warning).
#funfact -- facial exercise (AKA Facial Yoga) was founded in the 70's by Catherine Urwitz who's mission was to establish the connection between body, mind and face. Her objective was to understand how emotions and stress can create bad facial habits.
 Have you ever looked in the mirror and seen a reflection of your mother or father and asked yourself "when did that happen"?  We have great news and are pleased to share a few important features & benefits of Facial Yoga.  Regular exercise will soften and improve the natural ageing process, to the beautiful elegant new you. Here are results you can expect:
Prevent and reduce forehead wrinkles (and 11 lines)
Relaxed and refined features
A smoother complexion
Improved muscle tone
A radiant complexion
Lifted (uplifted) features
Improved fine lines & wrinkles
A more symmetrical facial contour
Reduced puffiness and crow's feet around the eye area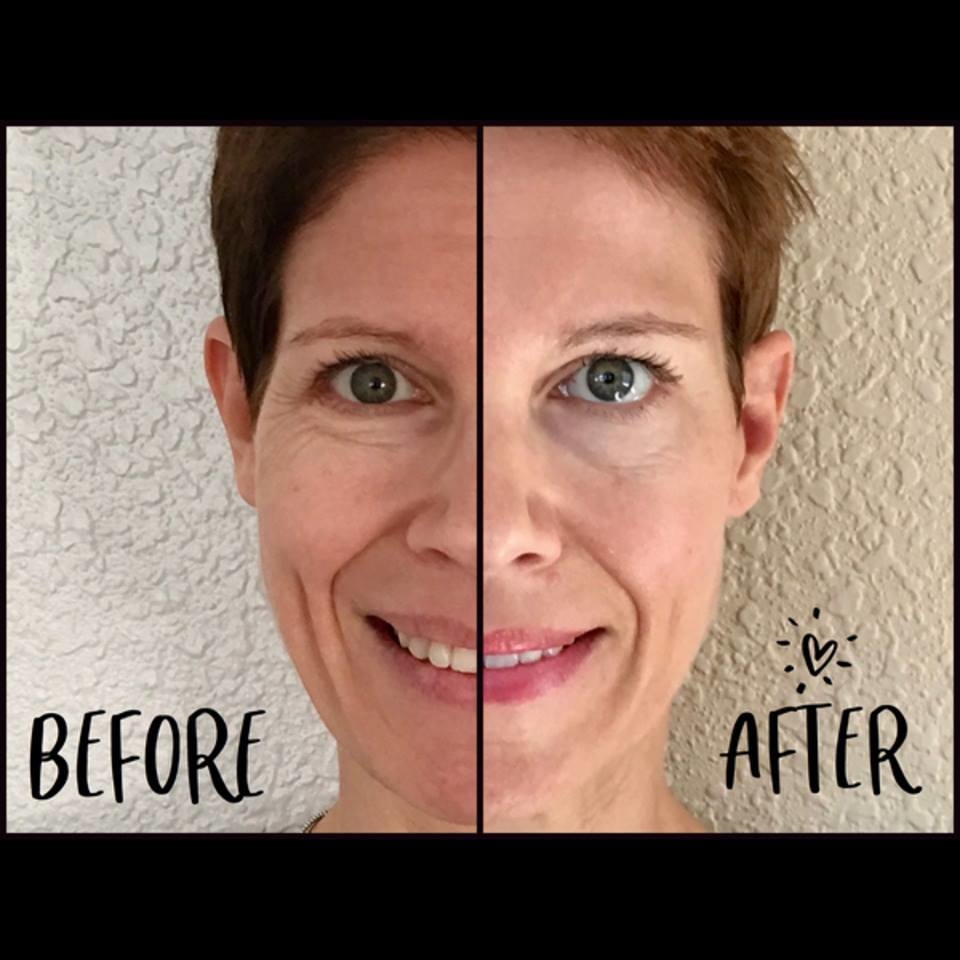 WHAT IS FACIAL YOGA?
Facial Yoga is the combination of the breath-work, visualization and living in the present moment.  It is a combination of yoga-like postures and facial expressions, which improve appearance and an overall sense of well-being.          
HOW DOES IT WORK?
Facial Yoga involves resistance exercises to help plump the muscles, encouraging optimized blood circulation for better absorption of all nutrients to the muscles.  Strong and healthy muscles create a foundation for the skin, therefore, expected results include (and are not limited to) reduced tension expressions, smooth and plumped-up fine lines & wrinkles, improved tone, lifted features and a radiant glowing complexion.
WHAT ARE THE BENEFITS?
There are so many benefits to practicing Facial Yoga and it targets three specific areas: the physical, mental and emotional. By taking control of the aging process and seeing positive visible results, it ultimately improves self-confidence which empowers so many areas of life.  An interesting read, Marie-Reine Kabis was interview by Châtelaine magazine and explains this theory in more detail #happyreading.
WHERE TO BEGIN?
It's super simple and easy, just make the decision and commit.  Start 2020 with a bang and a new skin care regime, which includes Facial Yoga.  Here are a few simple steps to help get you motivated:
Wake up and discover the Morning Radiant Face Ritual, a helpful video compliments of Face Yoga Passion
Incorporate 10 minutes of Facial Yoga to your routine (am or pm) at least 3-4 times per week
Hydration is key, be sure to drink 6-8 glasses of water every day
Cleanse, treat, hydrate and protect your skin with proper professional skin care every day (am and pm)
Great skin starts from the inside, so nourish with super foods and antioxidants such as walnuts, pecans, blueberries, raspberries, strawberries, goji berries, grenadines, papaya, açai, artichokes, spinach, beets and finally black chocolate #soyummy
It is possible to delay age-related physical manifestations by investing and taking care of ourselves. Facial Yoga is an excellent choice and one of the most effective alternatives to maximizing your true glow potential. Face Yoga Passion offers a wide variety of courses and packages which will guide you through an 8 week personalized journey to facial beauty results.  We invite you to connect with Marie-Reine Kabis for a personalized consultation and to learn how she can help you. 
It's yours to explore and discover!  
Namaste and cheers to a fabulous New Year,
Tasch xxx
Leave a comment